16 Aug 2016
Kaizen Imperial's is the manufacturer and supplier of Automatic Weather Station.
The Automatic Weather Station is used transmit meteorological information and measure biometric pressure, ambient pressure, humidity, etc.
This contemporary Automatic Weather Station consists of barometer, advanced thermometer and different sensors which respond to changing meteorological factors.
It can be used in meteorological research, waste management, environmental impact studies, civil, sector, defence sector and weather department.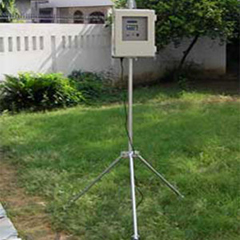 It is easy to set up, light in weight, has aluminum tripod and easy to use connectors. It can be even mantled and dismantled in any place and can survive in rough weather conditions.
It supports various programs, has data retrieval and data display options as well.  It has a compact modular design and requires low floor space for installation.
The regular maintenance tasks like emptying the rain gauge are done automatically and it has built-in weather proof enclosure which has power supply and data logger.
It is user-friendly interface and is best for Windows Operating System.  The default data is saved in the Microsoft Excel.
About Author
Rebecca